My Pride Possession - Masala Box
This is my pride possession in kitchen, my moshlar Dibe or Masala Box .This is very handy for me while preparing and cooking meals .There is Kalounji or Kalo jeera or Nigella seeds , Cumin seeds, Phanch phoron ( a spice mix of cumin seeds, fennel seeds, Fenugreek seeds and Nigella seeds ) and of course there is turmeric powder , red pepper powder and occasionally it will have dried red pepper powder and Tej patta ( Bay leaf ) .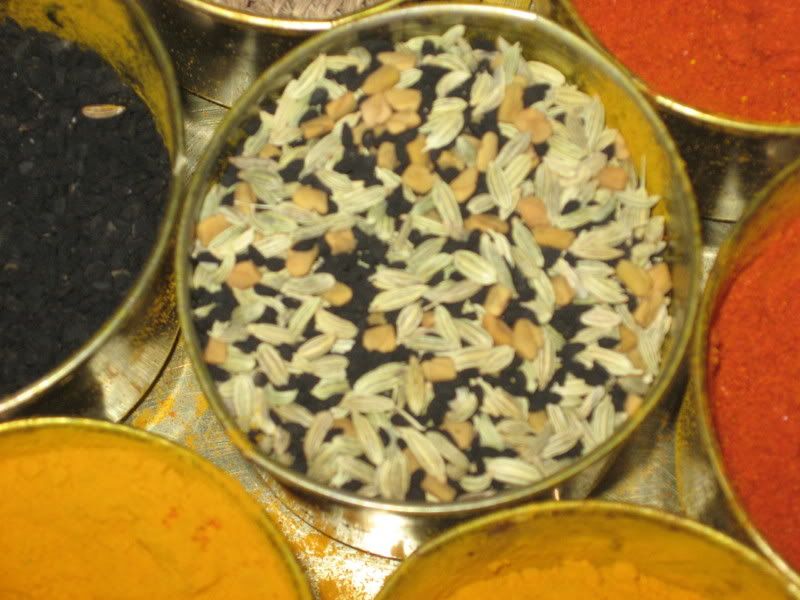 Potol Kumror Ghainte
Well I remember my mom making
aloo potoler
Dalna for dinner and we used to have it with rotis ,
Potol
is a quite famous vegetable in Bengali Cuisine , in a typical Bengali lunch
potol Bhaja
( Deep fried Parwal which is marinated with salt and turmeric powder) is accompanied with Dals .Then there is Potol diye Macher Jhol and so on …
Parwal
is Trichosanthes dioca , belonging to cucurbitacea family.Mainly grown in eastern part of India, It is also known as Pointed gourd or Wax gourd as well , is high in water content and that's so good during summers as its is easy to cook and easy to digest. Here is a simple recipe for potoler torkari or Ghainte what ever you feel is good to hear, choice is yours.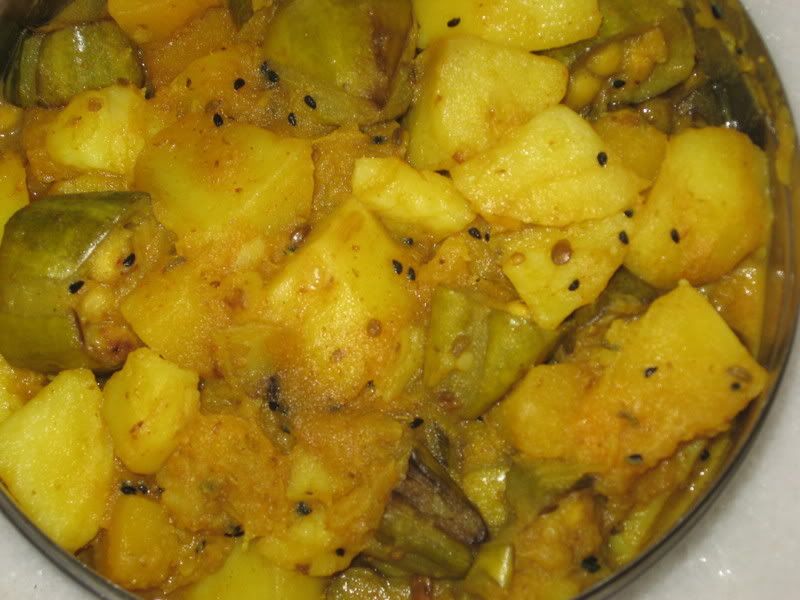 Potol Kumror Ghainte
Recipe Requirements
Potol/Parwal – 6
Cut the two ends of potol and peel the skin at ½ inch while let the other part of peel intact ., This way it gets 3 marks along the body, now cut rounds of ½ inch .
Kumro ( pumpkin) -10 -15 pieces cut into cubes, If using young Komro let the skin remain as it will be bright green color indicating the skin is fresh and young, If you get little old one the skin will be dull brown in color indicating the Komro is old and its better to chop off the skin , this one will be more sweet in taste .
Aloo ( potato )- 2 medium size potato cut into cubes, If the skin is paper thin let the skin remain ,its more pleasurable to eat potato with skin as the skin is high in mineral content.
Tempering and Flavoring
1 tsp of panch phoron
2 tsp of fresh grated ginger
1 tsp of turmeric powder
1tsp of red pepper powder
1 tsp of salt
1tsp of sugar
3 tbs of mustard oil
½ cup of water
Method

Heat up kadai and add oil, fry the potol pieces first till slightly brown. Take out in a separate bowl.
Add more oil, temper it with panch phoron ,ginger , add potatoes and komro , fry them at low .
Add salt , sugar , turmeric powder, red pepper powder and fry . Tip – whenever you prepare komro always add sugar in the curries , it balances the flavor of curry .
Add the fried potol /parwal , add ½ cup of water and then cover and cook for 10 mints .
Open the cover and with the help of spatula / Khunti slightly cut or press the potatoes and komro to a uniform mushy texture.
Serve with rice or roti .
Happy Cooking .